The Future Foretold
Ancient Prophecies Now Being Fulfilled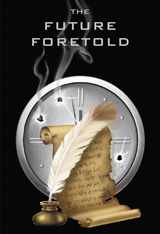 Chapter Seven
The "Me" Generation
"Because iniquity shall abound, the love of many shall [grow] cold."

Matthew 24:12, KJV
THIS IS HOW JESUS DESCRIBED the callous condition of people's hearts in the days before His return. In a related passage, the apostle Paul writes, "But know this, that in the last days perilous times will come: For men will be lovers of themselves, lovers of money, boasters, proud, blasphemers, disobedient to parents, unthankful, unholy, unloving, unforgiving, slanderers, without self-control, brutal, despisers of good, traitors, headstrong, haughty, lovers of pleasure rather than lovers of God" (2 Timothy 3:1–4).
Selfishness and cold-heartedness seem to be prevalent almost everywhere we look. The British Press Authority reflects what's occurring in most countries:
Britain is in moral decline as people become more selfish and less public-spirited, according to a [recent] survey.

The country is less law-abiding than it was 10 years ago, according to 77 percent of people questioned in a Gallup social survey, while 65 percent said the sense of morality was weaker.

People were also "less likely to get involved" than they were 10 years ago, according to 70 percent, while 72 percent thought the country was becoming more selfish.52
This view was echoed in the "Final Report of the National Commission of Civic Renewal" in the United States, co-chaired by the former U.S. Secretary of Education William Bennett and former Senator Sam Nunn. The commission report states:
During the past generation, our families have come under intense pressure, and many have crumbled. Neighborhood and community ties have frayed. Many of our streets and public spaces have become unsafe. Our public schools are mediocre for most students, and catastrophic failures for many. Our character-forming institutions are enfeebled. Much of our popular culture is vulgar, violent, and mindless. Much of our public square is coarse and uncivil. … Public trust in our leaders and institutions has plunged.53
"Missing" Children
A United Nations study concludes that "the size of the family is shrinking all over the world because women in most countries want fewer children."54 One reason for reduced family size is the radical increase in the number of abortions performed in the last several decades. Despite the fact that advances in fetal science have made a compelling case that human life begins at conception,55 worldwide an estimated 46 million unborn children's lives are snuffed out every year. The following passage from the Bible prophet Jeremiah could aptly be applied to our times: "On your skirts is found the blood of the lives of the poor innocents. I [God] have not found it by secret search, but plainly on all these things" (Jeremiah 2:34).
A mother's love for her infant has always been considered as pure and natural as can be. Reuters reports that "women around the world are having fewer children and are ending [about] a quarter of all pregnancies in abortion."56
Forty-six million women around the world have abortions each year. Twenty-two percent of all pregnancies are ended by abortion. Belgium, the Netherlands, Germany and Switzerland have [annual] abortion rates below 10 per 1,000 women of reproductive age; in all other countries of Western Europe and in the United States and Canada, rates are 10–23 per 1,000. Romania, Cuba and Vietnam have the highest reported abortion rates in the world (78–83 abortions per 1,000 women). Worldwide, the lifetime average is about 1 abortion per woman.57
Researchers have documented that from 1920 to 2006 there were 840 million reported abortions performed. Taking into account estimates of unreported abortions, the total is projected to be 929 million abortions.58 It is estimated that there are 3.8 million abortions performed each month worldwide.
This is an indictment of modern society, the conditions and values of which push women into making such a decision. Previous generations would be appalled by such statistics, but not ours. Surely the predicted days have arrived and hearts are growing cold and natural affection is fading away.
Notes
Rowan Dore, Press Authority (PA—A British wire service), 5 Nov 1994.
William Bennett and Sam Nunn, A Nation of Spectators: How Civic Disengagement Weakens America and What We Can Do about It, (Washington, D.C.: National Commission on Civic Renewal, Jun 1998.)
"Study: Women Want Less Kids," AP, 23 Aug 1995.
"The War over Fetal Rights" and "Treating the Tiniest Patients," Newsweek, 9 Jun 2003.
"Women Worldwide Having Fewer Children, Study Finds," Reuters, 23 Aug 1995.
"Induced Abortion Worldwide," The Alan Guttmacher Institute, May 1999.
Wm. Robert Johnston, "Summary of Registered Abortions Worldwide, through Dec 2006," last updated 20 Feb 2007, http://www.johnstonsarchive.net/policy/abortion/wrjp338sd.html.
Contents
The "Me" Generation