The Future Foretold
Ancient Prophecies Now Being Fulfilled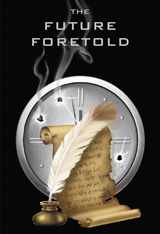 Chapter Fifteen
Faith to Face the Future
WE ARE CERTAINLY LIVING IN EXCITING TIMES and are on the threshold of some cataclysmic changes!
Seeing how prophecies from thousands of years ago accurately predicted world conditions today should encourage you in a number of ways. First of all, it's reassuring that God not only has the power to foresee the future, but that He cared enough about us to tell us what is going to happen in advance. As Jesus said, "I have told you before it comes, that when it does come to pass, you may believe" (John 14:29).
Similarly, when you realize that the current state of the world was foretold so specifically, it stands to reason that the biblical prophecies which have not yet been fulfilled will also come to pass. A world government with a bestial leader and enforced financial system will arise. Persecution of those who refuse to cooperate with the Antichrist regime will take place, but at the same time God will miraculously care for and empower His people to keep them even in trying times. And then God will intervene when Jesus Christ returns to rescue His people, defeat the forces of evil at the Battle of Armageddon, and establish His everlasting kingdom of love on Earth.
No Need to Fear
As these awesome final events of the Endtime begin to unfold, you don't have to be in fear or confusion, wondering what's going on. Although Jesus warned that in the very last days "men's hearts would be failing them from fear and the expectation of those things which are coming on the earth" (Luke 21:26), He also said that those who know and love Him could face these same events positively and victoriously.
He made it clear that as the final signs of the end came to pass, His return to rescue His people was that much closer: "Now when these things begin to happen, look up and lift up your heads, because your redemption [deliverance] draws near" (Luke 21:28). We may not like everything that is happening, and some of it may look pretty bad, but we know the happy ending. In previous persecutions of Christians throughout history, many of which were just as vicious as the ones to come in the Great Tribulation, the people of God as a whole have come through victoriously, stronger, and in many cases greatly multiplied in numbers.
Although the Great Tribulation is a time of great troubles, most of those troubles befall the Antichrist and his followers, not the followers of God. Jesus will do many miracles to empower and protect His people. "The people who know their God shall be strong, and carry out great exploits" (Daniel 11:32).
If you have faith in God and His Word, and you are living close to Him, then even if there's war and turmoil, confusion and chaos on the outside, you can have peace on the inside—in your own heart—through the Prince of Peace, Jesus Christ.
The Best Preparation for the Future
You can prepare for the future—and for all eternity—by receiving Jesus as your Savior. He loves you, and will be with you and will guide you through whatever perilous times you may encounter.
The Bible tells us that "God is love" (1 John 4:8). He is the Spirit of love, and He loves you and wants you to know and experience and revel in His love. But God is so great, so almighty, He is far beyond our finite human understanding. This is why He sent Jesus, His Son, to the world: to show us His love and to help us understand what He, God Himself, is like.
"For God so loved the world [you and me], that He gave His only begotten Son [Jesus], that whoever believes in Him should not perish [be separated from God's love], but have everlasting life" (John 3:16). God loves you so much that He gave Jesus, who lived and died in this world so that you could hear His message of truth and receive the free gift of eternal heavenly life.
If you don't yet know Jesus personally, you can receive Him and all the wonderful things He has to offer you right now. Even if you have questions and doubts about Him, He understands, and if you reach out to Him, He will make Himself real in your life. He says, "I stand at the door [of your heart] and knock. If you hear My voice and open the door, I will come into you" (Revelation 3:20).
Will you give Him a chance? He's waiting for you. Just sincerely pray the following simple prayer:
Dear Jesus, I believe You are the Son of God and I accept You as my Lord and Savior. Amen.
Jesus said, "I have come that you might have life, and that you might have it more abundantly" (John 10:10). Receiving Jesus not only guarantees you a brighter future, but a more fulfilled present. May His presence fill and bless your life in every way.
Contents
Faith to Face the Future