Signs and Seals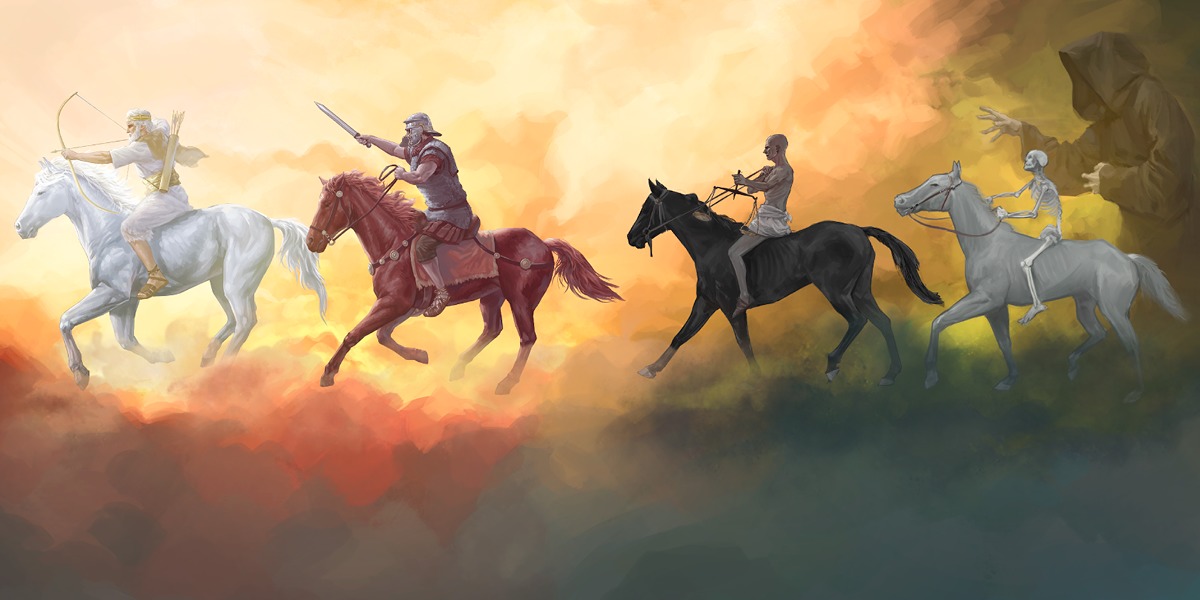 Ihave read both Matthew 24 and Revelation 6 many times, but it wasn't until recently that I was struck by how the events foretold in those two chapters of the New Testament run in parallel.
[Jesus' disciples asked,] "What will be the sign of Your coming [return], and of the end of the age?"

And Jesus answered and said to them: "Take heed that no one deceives you. For many will come in My name, saying, 'I am the Christ,' and will deceive many. And you will hear of wars and rumors of wars. See that you are not troubled; for all these things must come to pass, but the end is not yet. For nation will rise against nation, and kingdom against kingdom. And there will be famines, pestilences, and earthquakes in various places. All these are the beginning of sorrows.

Then they will deliver you up to tribulation and kill you, and you will be hated by all nations for My name's sake. And then many will be offended, will betray one another, and will hate one another. Then many false prophets will rise up and deceive many. And because lawlessness will abound, the love of many will grow cold. But he who endures to the end shall be saved. And this gospel of the kingdom will be preached in all the world as a witness to all the nations, and then the end will come."—Matthew 24:3-14
In Revelation chapters 4 and 5 the apostle John recounts how he had been transported in the spirit to God's throne room, where Jesus, represented as the Lamb of God, had been given a scroll sealed with seven seals. In chapter 6 these seals are opened.
Now I saw when the Lamb opened one of the seals. … And I looked, and behold, a white horse. He who sat on it had a bow; and a crown was given to Him, and He went out conquering and to conquer. (Revelation 6:1-2)
We believe this horseman to be none other than Jesus. After His resurrection, Jesus appeared to His disciples and gave them what has come to be known as the Great Commission: "Go into all the world and preach the Good News to everyone, everywhere" (Mark 16:15 TLB). They and millions of Christians since have taken that Good News into all nations and led hundreds of millions, if not billions, to God. So through His followers, Jesus has fulfilled and continues to fulfill this part of the prophetic vision. "This gospel of the kingdom will be preached in all the world" (Matthew 24:14).
Then the second seal is broken. "And it was granted to the one who sat on it to take peace from the earth, and that people should kill one another; and there was given to him a great sword" (Revelation 6:4).
This red horse is clearly a war horse. The rider's great sword represents armaments, and the horse's red color is indicative of the blood shed through the centuries by the warmongers who have ridden it. In Matthew 24, Jesus tells His followers that these wars of man, as horrible and destructive as they are, do not signal the end of the world as we know it.
The third seal is broken. "I looked, and behold, a black horse, and he who sat on it had a pair of scales in his hand. And I heard a voice … saying, "A quart of wheat for a denarius, and three quarts of barley for a denarius; and do not harm the oil and the wine" (Revelation 6:5-6).
Traditionally scales have been associated with two things: justice and commerce. Here they represent the latter. A denarius was a silver coin of the ancient Roman Empire and typically a laborer's daily wage. However, historical records show that a denarius should have bought 15 to 20 times more wheat than the amount mentioned in the verse. Barley was regarded as an inferior grain and therefore considerably cheaper. That these staples were so expensive is indicative of scarcity—perhaps the famine of Matthew 24. Olive oil and wine were also common commodities in John's day, but why the voice said not to "harm" these is unclear.
The fourth seal is broken: "And behold, a pale horse. And the name of him who sat on it was Death, and Hades followed with him. And power was given to them over a fourth of the earth, to kill with sword, with hunger, with death, and by the beasts of the earth" (Revelation 6:8).
Here we see death in several of its many forms, including war and famine again. In the second sentence of this verse, some translations render "death" as "plague" or "disease." The souls of the dead pass into the unseen spiritual realm, which the ancient Greeks and Romans called Hades. "Famines and pestilences in various places" (Matthew 24:7).
Then the fifth seal was broken:
I saw under the altar the souls of those who had been slain for the word of God and for the testimony which they held. And they cried with a loud voice, saying, "How long, O Lord, holy and true, until You judge and avenge our blood on those who dwell on the earth?" Then a white robe was given to each of them; and it was said to them that they should rest a little while longer, until both the number of their fellow servants and their brethren, who would be killed as they were, was completed (Revelation 6:9-11).
Certainly this goes along with Jesus' statement: "They will deliver you up to tribulation and kill you, and you will be hated by all nations for My name's sake" (Matthew 24:9). Christians have suffered persecution and martyrdom from the beginning, just as Jesus Himself did, and just as He said would happen to His followers: "'A servant is not greater than his master.' If they persecuted Me, they will also persecute you" (John 15:20).
"I looked when He opened the sixth seal, and behold, there was a great earthquake" (Revelation 6:12).
Like war, famine, and pestilence, there have been earthquakes both before and after Jesus' Endtime discourse in Matthew 24 and the vision He showed John in the book of Revelation. However, that this particular earthquake is represented by one of the seven seals would seem to indicate that it is special—perhaps the earthquake of all earthquakes that is described in Revelation chapters 11 and 16, which levels one tenth of Jerusalem and many other places in the time of God's wrath on the Antichrist and his forces, right before Armageddon.
When Jesus described these things in Matthew 24, He explained that these are only the "beginning of sorrows." The Greek word translated as "sorrows" here is more precisely translated as "a pang or throe, especially of childbirth." Labor pains continue to intensify right up to the time of delivery, so we can expect things to get even worse before they get better. But they will get better.
It shall come to pass in the latter days that the mountain of the Lord's house shall be established on the top of the mountains. … He shall judge between many peoples, and rebuke strong nations afar off; they shall beat their swords into plowshares, and their spears into pruning hooks; nation shall not lift up sword against nation, neither shall they learn war any more. (Isaiah 2:2,4)

The Lord has broken the staff of the wicked. ... The whole earth is at rest and quiet. (Isaiah 14:5,7)
At the end of this age, which isn't far off, Jesus will return to set things right and usher in a new age, the thousand-year period known as the Millennium, during which love and peace will reign supreme.